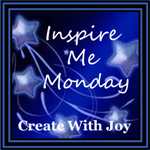 Inspire Me Monday is a meme from
Create With Joy
that really resonates with me. I have always felt the excitement of new beginnings when Monday comes back around. So here are a few things that are inspiring me today:
Music
The Pandora station created when I simply typed in Rich Mullins. Relaxing, worshipful, and challenging...so good.
People
I highly admire people who set goals and go after them. I usually float through daily life without any goals bigger than finishing the laundry and making dinner. While there is definite value in being faithful in the small things, big things usually don't happen without big dreams and goals. My sister's mother-in-law has lost 43 pounds in a year on WW and I admire her perseverance and commitment to her goal!
Blogs
Sara blogs about spinning and dying by hand and makes really lovely yarn. I love reading about a craft I know nothing about! Not only that, but I recently won a skein of yarn from her blog giveaway--yay! And thank you :-)
Flowers
Food
The Word of God
Grace and peace be multiplied to you in the knowledge of God and of Jesus our Lord,
3 as His divine power has given to us all things that pertain to life and godliness, through the knowledge of Him who called us by glory and virtue,
4 by which have been given to us exceedingly great and precious promises, that through these you may be partakers of the divine nature, having escaped the corruption that is in the world through lust.
All things that pertain to life and godliness...note to self, meditate on that.
I'd love to hear what inspires you today!